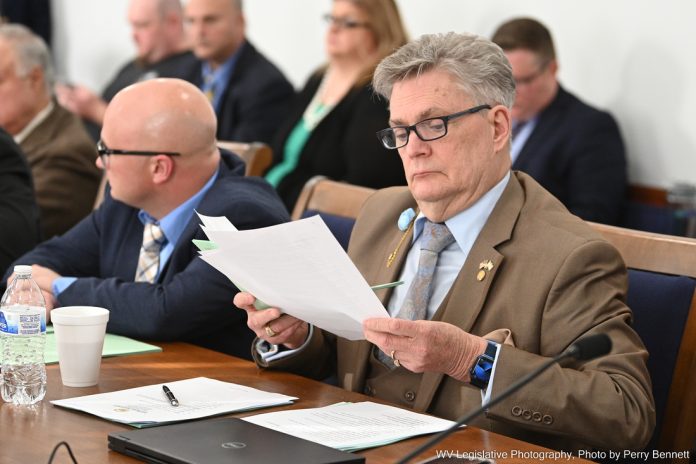 The Judiciary Committee met this morning and this afternoon to consider the following.
House Bill 3189 creates the PFAS Protection Act. The bill requires the DEP to identify and address PFAS sources impacting public water by July 1, 2024. The bill also requires that facilities that have used PFA chemicals recently report their use to the DEP. It's required that permits be updated to monitor PFAS chemical facilities to report their use. The bill also requires the DEP to propose rules to adopt water quality criteria for certain PFAS chemicals after they are finalized by the USEPA.
House Bill 3493 prohibits a governmental entity of China or a company or other entity that is headquartered in or controlled by the government of China from owning land in West Virginia.
House Bill 3448 allows the Supreme Court Division of Probation Services to conduct field training for probation officers and grants a field training officer the same powers as a probation officer while performing his or her duties.
House Bill 2189 creates the Protection of Property from Warrantless Searches Act.
House Bill 3265 allows a sheriff to bill another law enforcement agency for services.
House Bill 2252 enhances criminal penalties for human trafficking. The bill sets determinate sentencing. For human trafficking of an adult, it would be 15 to 40 years; and for the trafficking of a minor, 25 to 100 years. The bill removes parole eligibility for anyone guilty of trafficking a minor. The bill was amended to include fines in addition to sentencing.
House Bill 3188 establishes an alert system for missing cognitively impaired persons.
House Bill 3006 adds the criminal offense of damaging, destroying, or stealing any amount of copper, with felony penalties. The bill also provides for forfeiture of items of personal property that are used, have been used, or are intended for use, used in the perpetration of theft or damage to infrastructure. The bill was amended to increase fines.